This week has just flown by! Like.....hyper drive warp speed.
I am looking forward to next week, after my son's birthday party this weekend, when hopefully all things Star Wars related are out of my head!
I'd love to stay and chat, but it's pretty late and I still have to figure out how to make a soccer ball into a Death Star pinata, make a Darth Vader mask, and figure out how I can have a
Find the Princess
game, when it appears.......Princess Leia is actually lost.
You know where is a good place to go when life gets hectic? Someplace you can just chill?
How 'bout the beach? Since it's Friday and all......and my brain really needs to focus on something less galatic for awhile.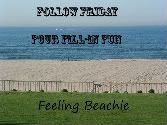 Copy Hilary's questions into your post, fill in your own answers, link up! Share. Spread the word.
1)
Any Meal
always tastes better when
anybody but me makes it.
2) I predominately read
to my children these days. My time for historical romance smut will come again.....at least, that's what gives me strength to read "Dora and the Pirate Adventure" one more frickin time.
3) I have brand loyalty
condiments
and
never buy no-name ketchup, mustard, or peanut butter. Gotta be Heinz, French's and Kraft.
4) When I feel sad I like to
talk a walk and listen to some music. Although, I also do this when I am happy too. I think the combination of Nature and Music never fails to increase, or raise my good spirits.
Short and sweet today. I debated linking up this Friday because I will be so busy.....everyone wish me luck that come Sunday afternoon: after birthday parties, clean up, teaching Sunday school.... I will have some time fo a hot cup of coffee, leftover cake, and some beachie blog reading!